Rising SuperStar: Miss Christina Grimmie
I am going to be completely honest. I didn't like Miss Grimmie being on the Voice at first. I thought it was unfair for her to have such a large fan following (at least 2.5 million subscribers), which would pretty much guarantee her the win on the show when she performs in the live shows. Now that she is in the live shows, she'll basically be a shoe-in for the victory. However, one thing HAS remained unchanged; Christina Grimmie IS SUPREMELY TALENTED and does deserve more than some of our pop-sickos get in the musical industry. Therefore, to begin I would like to issue a formal apology in the event that I've implied anything hurtful towards her or her high caliber of talent. Sometimes I tend to say nasty things in the heat of the moment. Miss Grimmie has always been a talented singer in my book and I wish her the very best as I see she probably won't need my support. I still hope we can be friends on Facebook though! :)
Why I didn't like her (At First):
1. The Voice is supposed to be a show offering complete unknowns the opportunity to showcase their talents and make a career out of their long-desired passions. Judging from her Youtube subscriptions, Miss Grimmie is well known around the web, and given the many opportunities she had to open for people like the Jonas Brothers and Selena Gomez, (both of which GRIMMIE is BETTER) I'd believe that she has a good shoe in the industry. There are people on the Voice who are dangling in desperation of a career because they've given up everything to pursue music. When you match those people with Miss Grimmie, obviously I would be willing to give less fortunate people a chance.
2. Christina Grimmie has a HUGE advantage in votes, because of her Youtube fans/subscribers in addition to the newly-converted fans she acquired since being on the show. Some of these "fans" have been saying hurtful things on Youtube to the unlucky opponents that happen to battle against Miss Grimmie, most evident with all the bashing Queen Sam has been taking since she lost to Miss Grimmie. I CANNOT stand for that, and I think that it was extremely low-down for these "superfans" to rub Miss Grimmie's victory into someone who was trying to innovate music, balance her financial situation, and stay strong on a dream after some pricky coach decided to eliminate her. Therefore, is a good number of her fans can stoop so low, they'll probably stick by Miss Grimmie even if she completely bombs a performance, which is DEFINITELY NOT FAIR for all the people who give it their all knowing that they lack a fanbase to give them leeway. I'm not saying that ALL Grimmie fans are gonna vote blindly, but a lot of their immaturity on Youtube definitely leaves me hanging on the apprehensive end of doubt.
The solution is simple and I have a message to ALL Grimmie fans:
Please, if you still have the tiniest respect in you as a person, please vote fairly. Vote for the best one, regardless if it is Grimmie or not. If you like Miss Grimmie and she legitimately did the best, then vote for her. If you don't like Miss Grimmie, then don't vote for her. Just give consideration to all the other artists okay? :)
3. The Winner of the Voice is guaranteed a record deal with Universal Republic Records. But the biggest reward of the show is the national exposure. Christina Grimmie will likely get a record deal regardless if she wins or not due to her fresh pop-vocals and her huge popularity, so it would be better for someone like Sisaundra Lewis to clinch the victory because some past Voice finalists have yet to be signed yet, so previously unknown artists really do need it more than Miss Grimmie. So in summation, I'd be perfectly fine if Christina Grimmie made it up to runner-up position, because her talent alone does merit her being there. I get that The Voice is a place for second chances and career-revivals, but lengthy exposure is a good enough reward by itself. The Grand Prize should go to an underdog/lesser known artist, because people like Miss Grimmie don't need it as much.
4. Personally, I didn't like Miss Grimmie that much because she was not my favorite singer and thus did not warrant a victory in my honest opinion. I was bitter about her robbing Queen Sam Behymer's much-deserved spot, and the rage only compounded when I saw the HORRIBLE things SOME of her fans have written about Queen Sam on their battle in Youtube. And with so many good singers exiting the competition prematurely like Queen Sam and Duchess Ddendyl, I just felt that she had a reason to stick around because of her immense popularity on performances where she wasn't at her best. I just didn't like the fact that compared to everyone else, she had a safety net so that she didn't have to be perfect.
5. Finally, Miss Grimmie represented the worst factor of democratic voting systems where it centers as a popularity contest instead of merit. It is likely inevitable that Miss Grimmie will take the cake this season because she has at least 25% of nightly viewers with an incentive to back her up. Therefore, to make this as fair as possible. I am pleading to any potential voter that
THEY CONSIDER ALL THE ARTISTS BEFORE VOTING, OR SPLIT THE VOTES BETWEEN MISS GRIMMIE AND SOME OF THE OTHERS.
Give Miss Grimmie a fair chance, and give the other eleven a fair chance, PLEASE!
6. This last reason really isn't a bad stain on Miss Grimmie's record, as this involves my personal insight with resident asshole Levine Adam. If Miss Grimmie wins, he's gonna brag over and over again with the cheap phrase that "HE WON THE VOICE" like he has all the credit, when really it is his artists (a good number of them WAY more talented than him) that did all the heavy load. And, I would just hate to give Levine Adam another season of satisfaction so that he can fraudulently rub it in people's faces next season. The only thing I can fault Miss Grimmie on this would be her poor decision-making skills to pick Levine as her coach over three better people (Mr. Raymond, Mr. Shelton, Miss Ripoll). So, I have nothing against Miss Grimmie's singing talent, but I'm frustrated that she is a pawn for Levine the Taskmaster. (If you want to find out more about my personal feud with Levine Adam, google
The Krackhead Club: Kracklist #5 Levine Adam.
To Repeat, I have NOTHING against Miss Grimmie's talent or her as a person. And if her fans vote fairly taking my advice, I will feel much better even if Miss Grimmie does win, because at least I'll know that you all CARED ABOUT OTHER PEOPLE. :)
As I am a blogger who advocates new talent, I'm going to make up some of the things I said about Miss Grimmie by promoting her good qualities.
She made me LIKE this SONG!
To Family:
Though I don't know her that well as a person, I can see that she is extremely hard-working and cares very much for her family. (A lot of people have been telling me that she is doing this for her mom) And you know what, we need people like her! She'd be an inspiration to a young generation desperately in need of a remedy from their cold-hard shells of isolation and media-savvy. Miss Grimmie is well respected by her fans, and is a good person with a friendly disposition, natural outer beauty, and most likely a warm heart. Know that I stand by you on this Miss Grimmie.
Positivity + Stage Presence:
WE NEED MORE POSITIVITY in this world. What came off from Miss Grimmie was that she was a REAL person with an ebullient and endearing personality that shines right through her smiles. There's just something about her, the bubbly personality that radiates whenever she sings. She always looks like she's having a blast on stage with complete ease.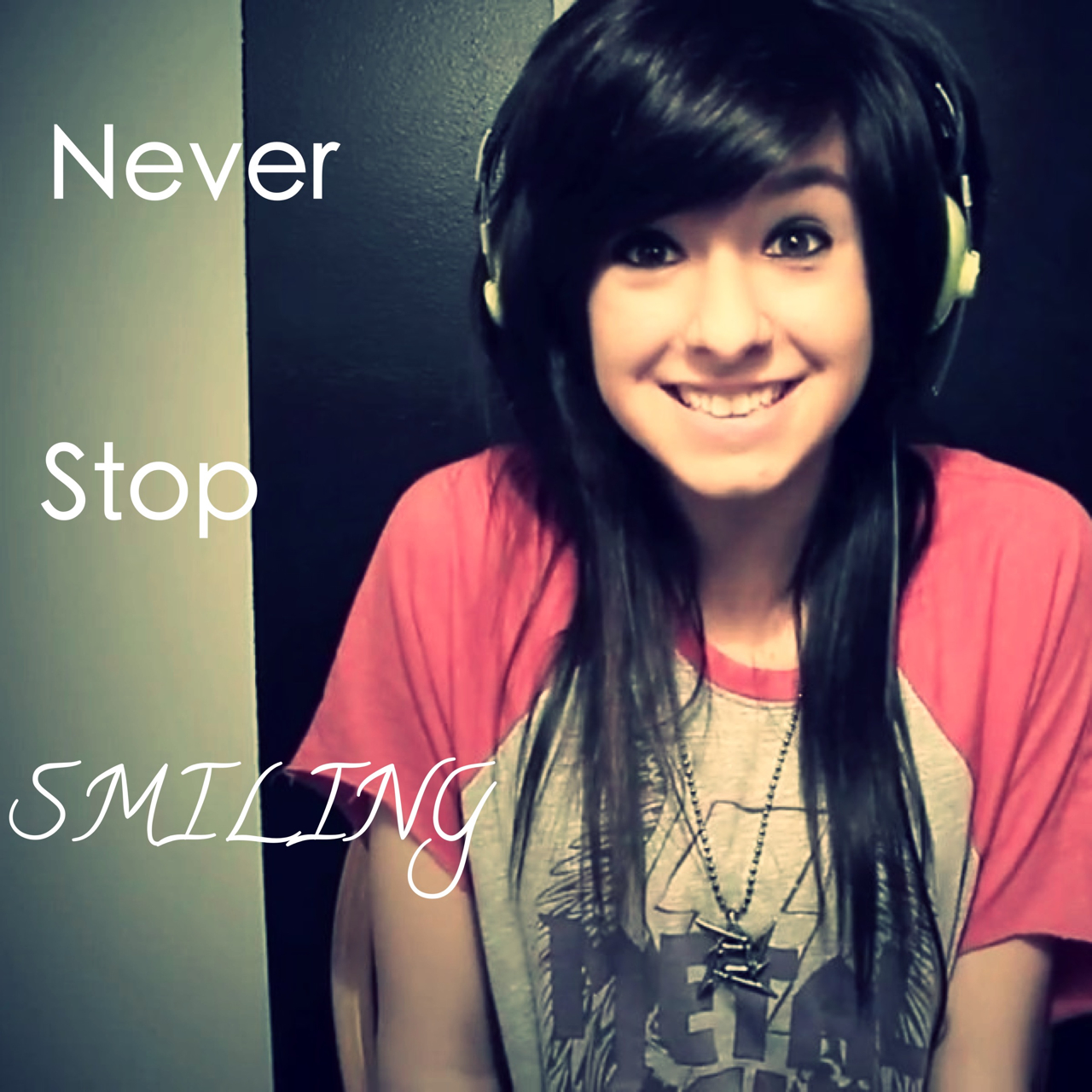 I AGREE WHOLEHEARTEDLY!!!
:) :) :)
Vocal Talent:
I have NEVER once doubted Miss Grimmie as a vocal talent. She IS a SPECTACULAR pop vocalist. Interestingly, she didn't leave much of an impression on me at first. But then as I went back and listened to her singing over and over again, I began to hear that star quality in her voice. Her voice is so good that I even abandoned Ariana Grande for her music. Miss Grimmie possesses a powerful belting capability reminiscent of Miss Celine Dion, and an angelic voice expanding far above normal vocal ranges. (Possessing an eight-octave vocal range myself, I get overly excited when people start doing tricks in the whistle register) As evident by her audition with Cyrus the Whore's
Wrecking Ball,
it is obvious that Miss Grimmie is a far superior singer and person than Cyrus the Whore could ever be, who will instead be joining my negative blog as a Kracklister. Miss Grimmie deserves her moment in a spotlight. I am supportive of anyone with a dream, and Miss Grimmie equally deserves to chase after her dreams like everybody else.
BE WHO YOU WANT TO BE!!!
:) :) :)
Individuality:
While Queen Sam Behymer and Duchess Ddendyl stood out to me as the most unique artists of this season, Miss Grimmie definitely is an unique asset as well. From her shifts of rocker-like belts to smooth vocals to her lovely falsettos, Miss Grimmie is indeed a special talent and a joy to hear. Not only does she radiate positively on stage, but she also brings a flare to a song, making it exciting! And yes Cyrus The Whore, I repeat, I only began to like your song
Wrecking Ball
after I heard CHRISTINA'S VERSION. And to make me like something from someone I despise, that takes some real talent, and Miss Grimmie certainly possesses it!
P.S.:
So glad to see that Miss Grimmie and Queen Sam are friends on Facebook/Twitter and are helping each others' careers. :)